Big Data/Hadoop Training in Marathahalli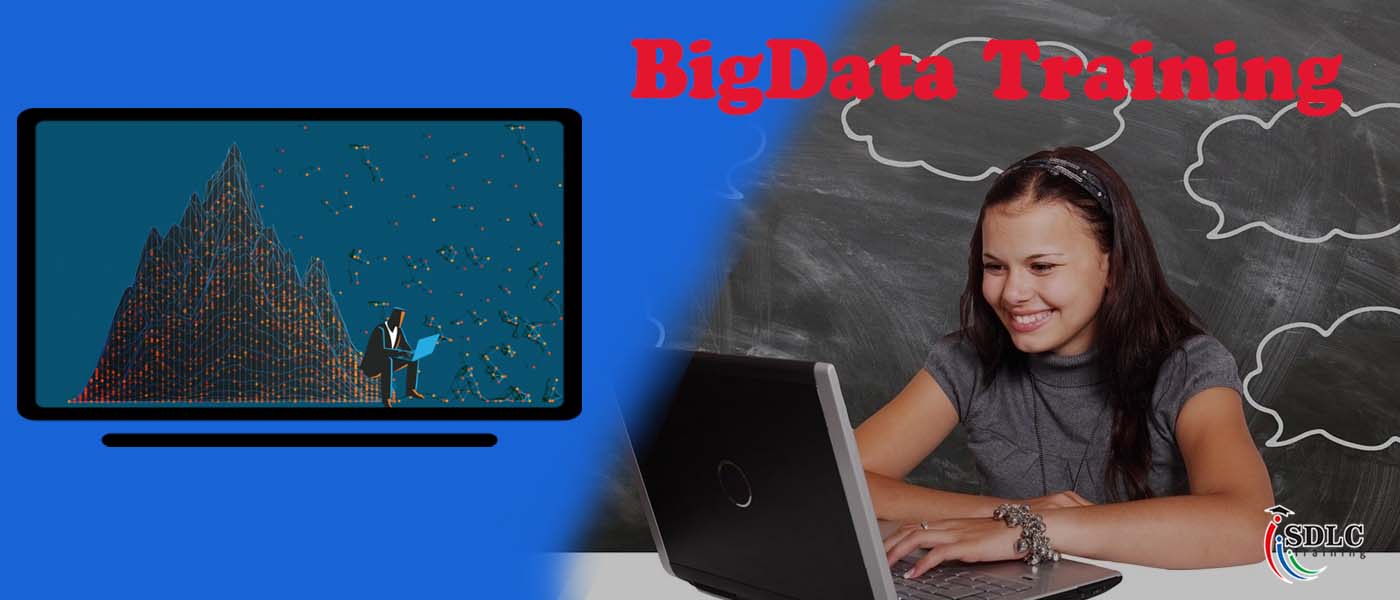 Big Data/Hadoop Training in Marathahalli, Bengalore
Big Data/Hadoop:
Hadoop Development course teaches the skill set required for the learners how to setup Hadoop Cluster, how to store Big Data using Hadoop (HDFS) and how to process/analyze the Big Data using Map-Reduce Programming or by using other Hadoop ecosystems.
SDLC Training is the best Big data/Hadoop Training Institutes in Marathahalli/Bangalore, Why?
SDLC Training provides the best Big data/Hadoop Training in Marathahalli, Bangalore. Trainers are the most experienced professionals. The trainer will cover the basic to advanced concepts with practical sessions of Big data/Hadoop. By this, the trainees will receive up-to-date training in multiple areas in Big data/Hadoop and trainees can understand the real-time projects. Big data/Hadoop Training in Bangalore at SDLC is planned to give the Big data/Hadoop Training to Trainees the skills & knowledge to gain a competitive advantage in starting/enhancing a career in Big data/Hadoop industry.
Real-time and 100% placement oriented Big data/Hadoop training:
SDLC Training Institute is offering the real-time and job oriented Big data/Hadoop training. This will helpful for both experienced and fresher people in Big data/Hadoop. For freshers, we are providing the mock interviews and placement assistance. Experienced people can grasp the knowledge of the Big data/Hadoop.
Big data/Hadoop Training Classes in Marathahalli:
SDLC Training Institute is providing the Big data/Hadoop classroom training and Big data/Hadoop corporate training. Big data/Hadoop Training is available at flexible timings on the weekdays and weekends. We are maintaining the limited bath size. So we can concentrate on each and every student. SDLC offering the free demo classes.

Course duration
| | |
| --- | --- |
| Demo Class : Free Demo Session, Flexible Timings | Free Class : Attend 3 Free Classes to check training Quality |
| Regular : 2 Hours per day | Fast Track : 2 – 3 Hours per day: 10 days |
| Weekdays : Available | Weekend : Available |
| Online Training : Available | Class Room Training : Available |
| Course Fee : Talk to our Customer Support | Duration : 30 Hours |
Bigdata/Haddop Course Content
BIGDATA HADOOP TRAINING CONTENT
MODULE 1- INTRODUCTION TO BIGDATA
Evolution of Big Data
The 6 V's challenges of traditional technology
Comparison of Big Data with Traditional technologies
What is Big Data?
Examples of Big Data
Reasons for Big Data Evolution
Why Big Data deserves your attention
Use cases of Big Data
Different ways of analytical techniques using Bigdata
MODULE 2- INTRODUCTION TOHADOOP
What is Hadoop
History of Hadoop
Hadoop Ecosystem
Problems with Traditional Large-Scale Systems and Need for Hadoop
Understanding Hadoop Architecture
Fundamental of HDFS (Blocks, Name Node, Data Node, Secondary Name Node)
Rack Awareness
Read/Write from HDFS
HDFS Federation and High Availability
MODULE 3- STARTING HADOOP
Setting up single node Hadoop cluster(Pseudo mode)
Understanding Hadoop configuration files
Hadoop Components- HDFS, MapReduce
Overview Of Hadoop Processes
Overview Of Hadoop Distributed File System
The building blocks of Hadoop
Hands-On Exercise: Using HDFS commands
MODULE 4- MAPREDUCE-1(MR V1)
Understanding Map Reduce
Job Tracker and Task Tracker
Architecture of Map Reduce
Map Function
Reduce Function
Data Flow of Map Reduce
How Map Reduce Works
Anatomy of Map Reduce Job (MR-1)
Submission & Initialization of Map Reduce Job
Assigning & Execution of Tasks
Monitoring & Progress of Map Reduce Job
Hadoop Writable and Comparable
Map Reduce Types and Formats
Understand Difference Between Block and Input Split
Role of Record Reader
Different File Input Formats
Map Reduce Joins
MODULE 5- MAPREDUCE-2(YARN)
Limitations of Current Architecture
YARN Architecture
Application Master, Node Manager&Resource Manager
Job Submission and Job Initialization
Task Assignment and Task Execution
Progress and Monitoring of the Job
Failure Handling in YARN
Task Failure
MODULE 6- HIVE
Introduction to Apache Hive
Architecture of Hive
Installing Hive
Hive data types
Hive-HQL
Types of Tables in Hive
Partitions
Buckets& Sampling
Indexes
Views
Executing hive queries from Linux terminal
Executing hive queries from a file
Creating UDFs in HIVE
Hands-On Exercise
MODULE 7- PIG
Introduction to Apache Pig
Install Pig
Architecture
Data types
Working with various PIG Commands covering all the functions in PIG
Working with un-structured data
Working with Semi-structured data
Creating UDFs
Hands-On Exercise
MODULE 8- SQOOP
Introduction to SQOOP& Architecture
Installation of SQOOP
Import data from RDBMS to HDFS
Importing Data from RDBMS to HIVE
Exporting data from HIVE to RDBMS
Hands on exercise
MODULE 9- HBASE
Introduction to HBASE
Installation ofHBASE
Exploring HBASE Master & Region server
Exploring Zookeeper
CRUD Operation of HBase with Examples
HIVE integration with HBASE
Hands on exercise on HBASE
MODULE 10- OVERVIEW SESSIONS ON
HUE
OOZIE
FLUME
SPARK
KAFKA
STORM
AMBARI
MAHOUT
MODULE 11- FAQS, REAL TIME ENVIRONMENT & REAL TIME SCENARIOS
Real Time Q/A
FAQ
Real Time Environment
MODULE 12-REAL TIME PROJECT
Working on Real Time Project
We will be providing raw data & requirements for the project & you will have to work. Finally we will have one Project execution session where we will be explaining the steps for execution.
FAQs
What is the batch size for Big Data/Hadoop?
SDLC training providing the limited batch size, so we can provide quality teaching. If you want to get trained individually, we are also providing.
How will you people help for the Big Data/Hadoop Job?
SDLC training providing the 100% Big Data/Hadoop job assistance and mock interviews.
How will you people help in the Big Data/Hadoop projects?
SDLC training is providing the Big Data/Hadoop training with live projects and real-time practice.
How will you people provide the Big Data/Hadoop doubt clarification?
SDLC training providing the 24/7 interact access with faculties and after course also engagement between the faculties and students.
What are the extra Big Data/Hadoop services?
SDLC training providing the back up classes, soft skill training, interview skills workshop and resume preparation assistance.
How will you people help to enhance the students Big Data/Hadoop knowledge?
SDLC training providing the topics wise ppts, case studies, assignments and doubt solving.
I Joined For Angular 7 Training in this institute, One of the Best Real time Training center in Bangalore .They provide me Real time practical Training ,I am happy with SDLC Training center Thanks SDLC Team

subrat


Training experience was excellent, trainers taught each and every topic in full detail even they explained whatever doubt I had. Also the management is very cooperative guided me how to prepare resume which will helpful to get the job. Overall experience was excellent

Arjit Dewan


Training was very good.Trainers were well equipped with knowledge.They adjusted classes according to my office timings also.Course fees is reasonable compared to other training institutes.The teachers were very patient and cleared all my doubts related to AWS Devops.Will also be helping in resume preparation & FAQ's for Certification and Job Interviews

Sneha Das


I have a good experience with SDLC training , I was looking Sap support, I tried to search on Google so many vendor , but I didn't proper response and details. Finally I found this, than I got my solution with quick service and proper details. In my opinion academy is doing good job, I appreciate it.

Allay Criyons


I joined phyton course recently based on my experience trainer is professional and clear and gives pratical examples real time scenarios and also SDLC team very helpful in all the terms and am very happy with "SDLC" training.I would recommend everyone to join this institute.

Aishwarya G R


One of best institute for Fresher and experience Dotnet Training .I would highly recommend in SDLC Training every one to joined DOTNET MVC .

Kiranmayeekuruba Kiranmayeekuruba


I completed my oracle RAC DBA training from SDLC. Institute is very good , they provide all type facility like practical lab. Trainer was Manab sir.He having 25 year experience.He having good knowledge. My overall experience is very good with SDLC. Thank you manab sir thank you sdlc.

Gaurav justdial1


Great place to learn python,RPA ,Data science ,Angular,Java ,Oracle SCM,Oracle DBA rac, SDLC Trainers are working professional in MNC, They have a Good communication skills They are providing Realtime project Practically , I joined PYTHON course in SDLC Telraining Marathahalli Branch Trainer took great pains to explain with Good example….

Akash das


Very Good Training fir learning python D-Jango .ThecTrainer was professional and helped me understand the concepts very well .I would recommed SDLC TRAUNING For anyone Looking for Python with D-Jango Training .

Amit Patra


Very good institute for learning real time training. The trainers are working professional. I would recommend SDLC training for anyone looking for real time training with placement.

Bhagya R


I joined SDLC for Java training. It's a good place for getting trained in java. The trainer is very good in this center. He has very good knowledge in complete java. Santhosh sir also very good and interactive.

Shilpa Hegde


Oracle apps financial functional training is very good. Trainer is well experienced and the class was practical. I recommend this institute for apps financial functional.

Prasanth D


Best place to learn the java course as industry level.. Very clear about the subject and friendly environment. Very Good trainer… He will clear all the doubts with simple examples..

chandra sekhar


few months back i was searching for a good institute in bangalore for Angular course. I was so confused about whom to join hands with. one of my friend suggested to attend a demo at SDLC Marthahalli. after visiting there i really found it good n joined for Angular course. I must say it was a good experience. All are very friendly in nature. Dinesh sir guided me very well during the entire course. He made all the scenarios simple n explained using real time examples. also he used to give daily assignments. The best thing according to me is that their batches are not too overloaded.and they have a better fee structure compared to any other institues in bangalore. Now im happy that i took decision to get angular training from SDLC .

Fathima Burhana


SQL training is very good and can easily understand by anyone by the training given by this institution. Management is good Thank you Santhosh sir

N Subitshaa Kaveri


Very good institute for learning Angular JS. The trainer was clear and professional and helped me understand the concepts very well. I would recommend SDLC training for anyone looking for Angular JS training.

Nutan Bhandari


I took DEVOPS training in this institute and had a very good experience. The trainer gives personal attention and is professional. I got to learn the subject thoroughly. Best place to learn DEVOPS. Thanks, Prerana K

Think Foodie


I Joined sql/plsql in SDLC training , Management are Very Good ,They always provide Real time project knowledge practically, i always suggest everyone to joined in this institute Thanks SDLC Team.

sindhumathi mathi


Learning environment is very good with real time training. Experienced Trainer. Staff also very friendly. Their support and motivation will help u to learn new technologies .

Abhimanyu Baral


I am very happy with the institute and training was very good and trainer also very good actually but we have to put effort on our side to learn and providing placements also.

Nagarjun Arjun


I joined in SDLC Training Inst for c#. Net course. Teaching is very good and providing real times examples.

karamala naveen


I joined in this institute SAS Course , I got Good Real time knowledge I am happy with this institute Thanks sdlc team

mukhtar alam


I joined Python Training Larning environment is very good .They are giving real time Training .Python Trainer is giving Excellent training with all the basic and Advanced knowledge with project Practical knowledge .I am happy with this institute Thanks SDLC Team

Naresh Chilukuri


One of the best institute in Bangalore…Recently i completed my courses. i am happy with this institute. Trainers are having very good experience. they are working professional. Thanks SDLC.

santu kumar


I joined Oracle Rac DBA Training in this Institute I got Real time practical knowledge i am happy with this Institute Thanks SDLC Team

surendra korrapati


I have completed AWS DEVOPS in SDLC Training ,Learning environment is very good finely I Got job in MNC Thanks SDLC Team .

Ramana Pentakota


I have completed my training here.. Learning environment is very good. Excellent teaching. They are giving real time training practically. I'm happy with this institute. Thank you to sdlc

sai sai


Hi, I have attended for AWS course in sdlc training, trainer was given real time practical knowledge on subject, also Guid me how to attend interviews. I am happy with in this institute, Thanks SDLC Team helping me so much…

m ramya


One of the best institute to learn Oracle Apps DBA and Oracle DBA. Fortunate enough to get the best coach here with over 15+ years exp in this domain. Amazing way to teach with real life examples you would not forget. Clarity in entire subject, real time preparation, full support, systems all updated, great team. Looking forward for enroll for more courses soon.

Kumar Himanshu


I started my AWS training Mr. Gawtham was my trainer he is excellent in teaching the course. He started from the very basic because I'm from electrical background and I didn't have any idea about the Linux and networking. He gives proper explanation and everything is done practically. He makes us understand the topics very well. Guys who want to start a carrier in (AWS ) SDLC is the best option. And the training fee also is very less compared to other institutes. I am saying outta experience trust me.

Mohammed Yusuf


I have done aws from there. Goutam Sir took our training. He is too experienced knowledgeable. All doubts he cleared so easily.

Akash Rooj


Sdlc tarning is very good traning Insititute. Here they is provided 100% real time hanson traning. Sdlc traners are working Proffestional. Thanks SDLC TEAM

gurmeet kaur


SDLC TRAING is very good institute for AWS Training i joined SDLC, My trainer used to give me Real time assignments regularly and finally i got job in MNC Company Thanks TO SDLC TEAM.

Sudhanshu Shekhar Singh


Learning environment is very good. They are giving real time training. Aws trainer is giving excellent training with all the basic knowledge of Linux, Networking, database, storage and other things. Daily labs are available. and Staff also experienced people and very friendly. Their support and motivation will help u to learn new technologies very effectively. I'll suggest this institute to all my friends.

Naga Sushma Kallam


I hve attended to java nd python course which includes practical nd conceptual learning. Teaching is good.. good it environment..nuc n platform..

sai krishna pranathi


Good teaching and friendly environment.Trainer helping a lot to learn Loadrunner and JMet tools.I have practiced alot to learn those tools.Iam having much confident to get job.

hari kumar


I did python training from sdlc. The course material and quality of training is excellent in this institute. Course content covers both basic and advanced topics. Trainer is very good, highly qualified and very cooperative. Sdlc team is also very helpful.

Atul Singh


I have completed Angular js training here. It's very good for beginners. Also Devops training is good. Discussion of Practical assignments and real time scenarios is very useful for current IT industries.

Kirti Sundar


I have attended Core Java and J2EE course from SDLC and have had a very good experience with the overall training effectiveness of this institute. They have very good trainers and have sound training infrastructure as well

Anshuman Mukherjee


I have completed selenium advanced course from here. The trainer was well versed with the subject and taught well. Theory was always backed up with, practical programs and assignments which helped to grasp the concepts quickly. Doubts were cleared on regular basis and tips to clear interviews were also given. Overall, learning selenium here has been a pleasant experience.

lohita gadepalli


Steps To Build A Successful Career at SDLC
Limit the batch size so we can provide personal attention to everyone in the

session

Real-time practice

Live projects

24/7 interact access with faculties

Experienced and passionate trainers

After course engagement

We give topics wise ppt, case studies, assignments and doubt solving

100% job assistance

24/7 support

Student can attend their missed classes

Soft skill training, interview skills workshop, resume preparation assistance
WHO SHOULD JOIN BIG DATA/HADOOP COURSE
People who want to make a career in Big data/Hadoop or just want to upgrade your skills by learning Big data/Hadoop should definitely join this course. Either you are a student or an IT professional or someone who is looking for a job, Our best Big data/Hadoop Training in Bangalore will not just fit in your budget but will also convert you into a professional Big data/Hadoop expert.