HTML, CSS and JavaScript Training in Marathahalli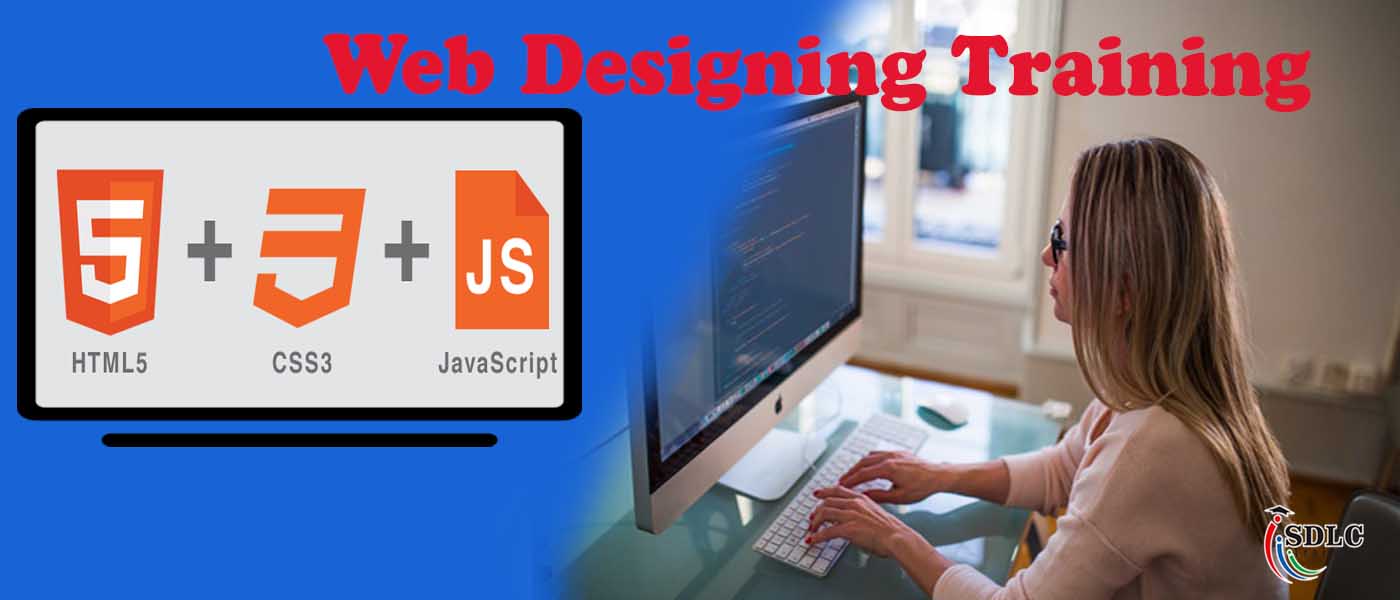 HTML, CSS and JavaScript Training in Marathahalli, Bengalore
HTML, CSS & JavaScript
HTML (the Hypertext Markup Language) and CSS (Cascading Style Sheets) are two of the core technologies for building Web pages. HTML provides the structure of the page, CSS the (visual and aural) layout, for a variety of devices. Along with graphics and scripting, HTML and CSS are the basis of building Web pages and Web Applications.
JavaScript is a lightweight, interpreted programming language with object-oriented capabilities that allows you to build interactivity into otherwise static HTML pages.
SDLC Training is the best HTML, CSS and JavaScript Training Institutes in Marathahalli/Bangalore, Why?
SDLC Training provides the best HTML, CSS and JavaScript Training in Marathahalli, Bangalore. Trainers are the most experienced professionals. The trainer will cover the basic to advanced concepts with practical sessions of HTML, CSS and JavaScript. By this, the trainees will receive up-to-date training in multiple areas in HTML, CSS and JavaScript and trainees can understand the real-time projects. HTML, CSS and JavaScript Training in Bangalore at SDLC is planned to give the HTML, CSS and JavaScript Training to Trainees the skills & knowledge to gain a competitive advantage in starting/enhancing a career in HTML, CSS and JavaScript industry.
Real-time and 100% placement oriented HTML, CSS and JavaScript training:
SDLC Training Institute is offering the real-time and job oriented HTML, CSS and JavaScript training. This will helpful for both experienced and fresher people in HTML, CSS and JavaScript. For freshers, we are providing the mock interviews and placement assistance. Experienced people can grasp the knowledge of the HTML, CSS and JavaScript.
HTML, CSS and JavaScript Training Classes in Marathahalli:
SDLC Training Institute is providing the HTML, CSS and JavaScript classroom training and HTML, CSS and JavaScript corporate training. HTML, CSS and JavaScript Training is available at flexible timings on the weekdays and weekends. We are maintaining the limited bath size. So we can concentrate on each and every student. SDLC offering the free demo classes.
Course duration
| | |
| --- | --- |
| Demo Class : Free Demo Session, Flexible Timings | Free Class : Attend 3 Free Classes to check training Quality |
| Regular : 2 Hours per day | Fast Track : 2 – 3 Hours per day: 10 days |
| Weekdays : Available | Weekend : Available |
| Online Training : Available | Class Room Training : Available |
| Course Fee : Talk to our Customer Support | Duration : 30 Hours |
Course Content
Introduction of HTML, CSS
Welcome & What We're Learning
What is HTML & CSS?
HTML Tags, Attributes & Elements
File & Folder Naming Conventions
Typical Website File & Folder Structure
Managing Your Production Files
Tools of the Trade
HTML Foundations: Part I
Starting Your First Web Page
The Doctype
The Basic Structure of an HTML Document
Page Title
Headings
Paragraphs
Emphasis & Strong Emphasis
HTML Parent/Child Structure
HTML Foundations: Part II
Hyperlinks
Lists
Images
Address
HTML Foundations: Part III
Tables
Forms
HTML Special Characters
HTML Foundations: Part IV
IDs & Classes
Span & Div
Header & Footer
Nav, Section & Article
Aside
Time
Abbreviations & Quotes
CSS Foundations: Part I
The Style Rule
Inline styles
Internal styles
External styles
CSS Selectors, Properties & Values
Inheritance of Styles
Pixels, Percentages, Points & Ems!
CSS Foundations: Part II
ID Selectors
Class Selectors
Descendant Selectors
Grouping Selectors
Get Your Hands Dirty!
CSS Foundations: Part III
The Box Model
Colours (or Colors)
Text Styling & Formatting
Sexy Typography
Borders
Background Images
Styling Forms
CSS Foundations: Part IV
Styling Links
Block & Inline Elements
Float & Clear
CSS Positioning
CSS Specificity
Putting It All Together
Final Website Walk Through
About the Course Files
HTML: Coding the Header & Hero
HTML: Coding the General Content
HTML: Coding the News & Events
HTML: Coding the Footer
CSS: Adding Normalize.css
CSS: General Styles & Typography
CSS: Styling the Header
CSS: Styling the Hero
CSS: Styling the General Content
CSS: Styling the News & Events
CSS: Styling the Footer
The Finished Product & Conclusion
Introduction to Javascript
Introduction
"Hello World" with Javascript
Little History
Variables
Using 'REPL' style console
Data Types
Flavor of Javascript
The String data type
The Number data type
The Boolean data type
Comments
Operators
Expressions
'if-else' statement
'switch' statement
The 'while' loop
The 'for' loop
'break' and 'continue'
Functions
Variable Scope
Type Conversion
Javascript in a web page
Using external Javascript files
Objects & Arrays
What are objects?
Object properties
JSON- Javascript Object Notation
The 'global' object
Arrays in Javascript
Sparse Arrays
Arrays as objects
Length of an array
Iterating over an array
Deleting elements of an array
Methods in an array
Sorting arrays
Functional Programming with Javascript
Coverage
Functional paradigm
Higher Order functions
Anonymous functions
Nested functions
Closures
List Comprehension – filter function
List Comprehension – map function
List Comprehension – reduce function
Accessing variable number of arguments
Object Oriented Programming with Javascript
Coverage
Functions as Objects
The 'this' keyword
Constructor functions
Using the 'prototype' property
Inheritance using 'prototype'
Miscellaneous
Coverage
Error handling
Debugging
DOM: Document Object Model
A simple slideshow
'setTimeout' function
Browser events
Event bubbling and propagation
The event object
AJAX overview
Using XMLHttpRequest object
Using var keyword for local variables
How browsers work
FAQs
What is the batch size for HTML, CSS and JavaScript?
SDLC training providing the limited batch size for HTML, CSS and JavaScript, so we can provide quality teaching. If you want to get trained individually, we are also providing.
How will you people help for the HTML, CSS and JavaScript Job?
SDLC training providing the 100% HTML, CSS and JavaScript job assistance and mock interviews.
How will you people help in the HTML, CSS and JavaScript projects?
SDLC training is providing the HTML, CSS and JavaScript training with live projects and real-time practice.
How will you people provide the doubt clarification?
SDLC training providing the 24/7 interact access with faculties and after course also engagement between the faculties and students.
What are the extra HTML, CSS and JavaScript services?
SDLC training providing the back up classes, soft skill training, interview skills workshop and resume preparation assistance.
How will you people help to enhance the students HTML, CSS and JavaScript knowledge?
SDLC training providing the topics wise ppts, case studies, assignments and doubt solving.
HTML Interview Questions
HTML5 Interview Questions
CSS Interview Questions
CSS3 Interview Questions
good trainers, good enviroment to study. i have completed AWS, the trainer is friendly and teaches things in the simplest way so that any one can understand easily. also they provide jobs after completion of the course. so, go for this institute .

Rajesh kumar Biswal


Really helpful tutors and best training institute for beginners from different field, to start the career in AWS Trainning .Including theory and practical classes ,helped to develop indepth knowledge in front end and Cloud architecture.Manav sir always help us for clearing doubt any time and by giving various example and videos.I learnt many things during these period.DEMO Classes available for various domain which is also very intresting.

sagar nayak


very good trainer available for sap fico at SDLC Real-time Trainer with Good price for online

sunita das


Very good training institute for beginner as well as professional and give very strong platform both career wise and knowledge wise.

Kumar Pankaj


I enjoyed the course and I feel satisfied talking the course .The procedure was perfectly organised .The tutor was extremely kind of supportive .The trainer were also helpful & friendly..

Santosh Sahoo


The quality is good and environment is friendly. The timings are manipulative as per ones convenience that is a plus point. Faculty here is also good.Good communication between student and Faculty. I can ask whatever question I have regarding the subject I'm getting trained for at any working hour directly to the faculty.

Shaah Rukh Mansoori


my personal experience is very good with with tutors and support staffs, they are very helpful throughout the the learning and other aspects. Growth of every student is there motive, thnak you SIR and Santosh Sir

Ashish Raj


We gain plenty of knowledge from each class, friendly environment , Serenity. Also want to add Nikhil Sir who is taking class for Java and Selenium truely knowledgeable person. He clears all concept in easy way.

preeti das


SDLC is best training institute for JAVA SELENIUM, Nikhil sir is very good in teaching and his teaching style makes us understand well and thoroughly. He is very good knowledgeable person. I am very happy with this institute and faculty.

tanaya mohanty


Really Good Center…they teach From The Basics…Nikhil Sir is A Well experienced person and The way of teaching is very good. NIKHIL sir Will clarify the doubts at any Time

Vetrivel R


I had enrolled for a course in DOT NET with SDLC Training for about 4 weeks. Overall, it's been a positive and a good experience. I have learned many topics till now. Ganesh N is the very good trainer for the DOT NET course .

janmejay paarth


hai .., every one I have done dot net training from SDLC Training Marathahalli. The Ganesh n trainers are really good and helped in clearing all my doubts. They focuses more on practicals than programming which I liked very much and tell one thing for our training center improve for most of time class room not available…

vigneshwaran prakasham


I have undergone Certified Talent Acquisition Specialist program at SDLC Training. I have completely understand all the concepts of Talent Acquisition. We had 40+ assignments and were given 100+ Reference Materials besides 60+ templates. All these and the Training sessions have helped me to become an expert within one month. I strongly recommend anyone who wants to pursue HR as a career must go for this.

Pavitha Kpeter


I joined SAP fico at SDLC training .People can learn easily cause trainer who is name as Santhosh has good knowledge and atmosphere. For fresher good opportunity to start their carrier.

Indu cv


Best place to learn. I have enrolled for Java Selenium.The trainer is well qualified, explains every concept with examples I'm happy with the training.Value for money.

Akhila Jinto


Very good Institute of Oracle apps Hrms…The trainer was clear and professional and helped me understand the concepts very well. I would recommend training for any one looking

reddy bh


Hi i came to know about SDLC training center here training is awesome…. You should visit once if you want to do some online course.

Debiprasad Panda


I joined here to learn Java and selenium. Nikhil sir is coaching us and he makes sure that basics are clear and then only he takes us to next topic. Good place to learn.

SACHIN KUMAR


I have undergone HR Business Partner program at SDLC. Raghav Sir has taught all aspects of HRBP which has helped me to understand and apply all concepts of Business HR. I have been given Case Studies and Assignments which have helped immensely to understand and apply my knowledge in the real time scenarios.

nagini r


Good institute to learn and upgrade your skills..I have taken nikhil sir classes for Java selenium.. His teaching way is fabulous. We can get good path to upgrading ourself

Komal Priyadarshini


I am taking training in Core java by Nikil sir , topics explaining is very good ,make u easily understand and gives good notes for us to refer back

vamshi krishna


This institute focus only hand on projects and assignments helps in getting a job. Just lecturing is not followed as it's not good for the candidates who have only bookish knowledge.

raghav rao


Very good Institute of learning angular JS. The trainer was clear and professional and helped me understand the concepts very well. I would recommend training for any one looking for angular JS training. 👍👍👍👍👍

Baikuntha Pegu


Very good institute . Faculties are Highly qualified Real-time and it's worth keeping to take admission to learn the programming .

kajal gupta


The only reason to give 5 stars to this training centre is Nikhil sir. He has excellent teaching skills. He explains concepts with realtime examples so we could easily understand .He also gives career advice which are really helpful.Thank you for the training sir…..

Ruparani Kuntoji


I did core java under Nikil sir. Very good teaching Skills ,good real time examples so that we can understand the concept clearly and. Gives time for practice.and friendly environment.i recommend its the best place and best trainer helps u to gain knowledge.

Sowmya Kotta


Excellent coaching by Nikhil for Java and Selenium; In-depth knowledge on the topics; happy to be at SDLC for my future career aspects.

ajaykn6 .


Very good place at learn new technologies, and also java faculty suman sir is very good to teach java with practical sessions also

vinodh kumar


i have completed my core java with complete knowledge on it and working now on advance java and project. the core java class was wonderful. SUMAN Sir is osam he will be cool and explains clearly about all the things in java and also he clafies douts so clearly.

srinu degala


Good learning institute for beginners and we can get the confidence well because of live project.And Institute manages are very cooperative and they will help you even when the course is completed…if you have any doubts.

Gowtham Reddy Chavva


Hi friends i am taking python coarse here with trainer Amitsaxena he is a very good trainer to me his teaching skills are very understandable he not only teaches the topic he gives the time until u get into that topic clearly and for every topic he is giving me excercises to practice to know how we are getting the topic.I got the confidence with his training.so choose your best and be confident at you Thanks to Amitsir& Thanks to SDLC

kalpana 55hh


I am Shybindh. I joined the Python course recently. My trainer is Amit Saxana. Really he is vastly knowledge person and his teaching style is super. Easy to understand the concept clearly. Thanks SDLC team. I suggest you all to learn python under Amit sir.

shybindh N


I have registered for SAP HCM course at SDLC Training Marthahalli, Bangalore. I was able to understand the concepts well. Thanks to Raghav Sir who has explained all the aspects of HCM in a clear manner. I will also be doing Project Work and strongly recommend in case you want to learn SAP HCM.

giridhar dushi


I underwent training on python-django. The training was good and the trainer explained the concepts with handson.Overall the duration of the course comes to 3-4 months.

Sinduja Ramaraj


I have joined here for core java, as i have zero knowledge on programming, within a week i got some confidence because of my trainer "NIKHIL"sir giving realtime examples and make easier.

shaiksha vali


I have undergone Certified IT Recruiter Course at SDLC. I could understand entire lifecycle of Talent Acquisition and gained practical knowledge. The sessions by Raghav sir were quite informative and insightful. He is very humble and down to earth person. His knowledge speaks louder than him. …

Nithya Nadar


I joined Dotnet training in SDLC TRAINING trainer's working professional in MNC i am getting Real time project knowledge practically i will suggest fresher's and experience candidates in this institute

Smita Rani


I did Python course under Amit Saxena Sir and he Taught it and made me understand everything from it. Now I find Python very easy since he has taught me with many real time examples also. This institute is highly recommended for beginners who want to learn Python.

Tarun Kumar


I did .NET Framework under Sir Ganesh here, and the classes he took were amazing. He provided us with many real time examples and it was easy to understand every concept. I would definitely recommend this Institute for . Net Framework if you are looking for one.

tanuja rai


I did .NET Framework under Sir Ganesh here, and the classes he took were amazing. He provided us with many real time examples and it was easy to understand every concept. I would definitely recommend this Institute for . Net Framework if you are looking for one.

tanuja rai


I have joined this class for Java and it is really good & easy to learn in sdlc training. Suman maity sir gives proper explanation & every program is done practically. Their faculty is really good & they always support and motivate us.

Bhupendra Singh


i am a new in java i don't have any idea about java but when i join in SDLC training i got a lot of idea for giving me knowledge its here,so i am happy for this SDLC training instituete center,i just wanna say for a beginner those who are interest computer programing go to SDLC trainig center its good for beginner and good for training center.

Fungso wangaroo


i am a new in java i don't have any idea about java but when i join in SDLC training i got a lot of idea for giving me knowledge its here,so i am happy for this SDLC training instituete center,i just wanna say for a beginner those who are interest computer programing go to SDLC trainig center its good for beginner and good for training center.

Fungso wangaroo


I joined in the month of july in weekend batch for advance java and spring .Trainer is excellent in delivering the real time concept.I am really happy to be part of SDLC. Its good for both fresher as well as working professionals .

sitansu pratibha pattanaik


I have join the class of java 3 week ago and now i am very confident. Our faculty suman sir taught us in very good way his teaching technique is best.

sarthak das


I have join the class of java 3 week ago and now i am very confident. Our faculty suman sir taught us in very good way his teaching technique is best.

sarthak das


Excellent training center for fresher's as well as experienced.. Trainers explaining concepts with patience and multiple time if required to understand. Trainer suman maiti is good and knowledged in java. Giving real time examples to help us in future when we are assigning in projects…

prasanna venkatesa


Best place for software courses to learn than any other place ….completely job oriented programme ..the best institute

giridhar jadhav


I finished core Java course in sdlc training .it's pretty good in here and the management is well organized with time.And I had Prashant sir as my trainer he personally helped me a lot in coding and am a better programmer now. If you are new to coding and don't know where to join I would recommend this place it's very good place to start with Thank you

Manoj Karanam


Enrolled for Android training. The instructor teaches you in the easiest understandable way. Could complete the course in 20 days. 5 star to Shankar Mani who teaches Android here.

Sai Kishore

Steps To Build A Successful Career at SDLC
Limit the batch size so we can provide personal attention to everyone in the

session

Real-time practice

Live projects

24/7 interact access with faculties

Experienced and passionate trainers

After course engagement

We give topics wise ppt, case studies, assignments and doubt solving

100% job assistance

24/7 support

Student can attend their missed classes

Soft skill training, interview skills workshop, resume preparation assistance
WHO SHOULD JOIN HTML, CSS and JAVASCRIPT COURSE
People who want to make a career in HTML, CSS and JavaScript or just want to upgrade your skills by learning HTML, CSS and JavaScript should definitely join this course. Either you are a student or an IT professional or someone who is looking for a job, Our best HTML, CSS and JavaScript Training in Bangalore will not just fit in your budget but will also convert you into a professional HTML, CSS and JavaScript expert.